Mitotane Market to Witness Healthy Growth with Expanding Patient Pool
Each year, an estimated ~10-15 per million people globally are affected by Cushing & rsquo ;s syndrome. Pituitary adenomas, a prominent disease indication in Cushing & rsquo;s syndrome, accounts for ~70% of cases in adults and& ~65% of cases in children. Cushing's syndrome is most common in adults with the age group of 20-50 and more prevalent among females.
However, the occurrence of adrenocortical carcinoma is rare malignancy with an incidence of ~0.7-2.0 cases/million habitants/year. The disease can occur at any age. Women are most frequently affected by the disease and therefore, have significant share in patient pool. Adrenal tumors are found in about 1 in every 10 people and is growing significantly every year.
With the increasing incidence of both the diseases each year, the treatment for the same using mitotane is likely to increase in the upcoming years. The mitotane market is expected to grow with a CAGR of~ 5%in the forecast period.
Late Recurrences at Early Stage of Cushing's Syndrome Driving the Adoption of Mitotane
Cushing's syndrome is one of the common ailment affecting adults in the age group of 30 to 50. It is likely that patients who have taken glucocorticoids can also develop Cushing's syndrome. Late detection and diagnosis is one of the major factor behind the market's growth, owing to the high purchasing power of adults and growing healthcare insurance exchange.
It is estimated that ~10 million Americans take glucocorticoids each year, and this is anticipated to boost the market. Adrenocortical carcinoma could be as high as ~8.7% in autopsy studies and ~4% in in radiology-based studies, exhibiting an average prevalence rate of ~3% in those over the age of 50 years globally.
It has been reported that ~75-85% of adrenocortical carcinoma patients will have a relapse after radical resection. Thus, with a high recurrence rate, use of adjuvant therapy with mitotane has increased globally.
Increasing Demand for Adjuvant Therapy Anticipated to Drive the Market
With a high recurrence rate and poor outcome of adrenocortical carcinoma treatment, use of adjuvant therapy followed by surgical resection of tumor is rising. Due to the mitotane's anti-carcinogenic activity, it has been used extensively in such settings with few conflicting results.
In one of the study, it was found that adrenocortical carcinoma patients treated with streptozotocin had a significantly high disease-free survival rate than non-treated patients. It has also been reported that adjuvants with mitotane can improve the recurrence-free survival rate. Despite all pros and cons, mitotane still remains one of the most commonly used therapeutic agent in the treatment of adrenocortical carcinoma, especially for the adjuvant use.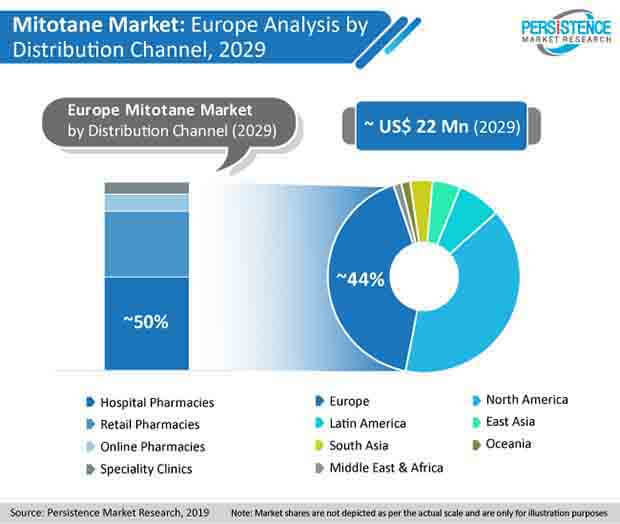 Significant Commercial Sales Partnerships with Market Leaders Driving the Mitotane Market
Over the years, the mitotane market is growing due to the successful commercialization of drugs, its sales, and marketing agreements. For instance, in Jan 2019, Medunik Canada signed an exclusive agreement with HRA pharma for commercialization of Lysodren® (Mitotane) in Canada.
In an event in March 2018, moksha8 Brasil announced a strategic agreement and partnership with HRA Pharma, to commercialize the sales of Lysodren in the South America market. This development was observed as the first step to build an oncology treatment line in the mitotane market.
However, major manufacturing breakthrough came in Sept 2017, when one of the fatsest-growing healthcare company, HRA Pharma, acquired Lysodren® (Mitotane tablets) from Bristol-Myers Squibb Company.
Mitotane Market: Competitive Landscape
This section of the mitotane market report feature profiles of the key players operating in the mitotane market based on their marketing and differential strategies. Examples of some of the key players featured in this report includes Bristol-Myers Squibb Company and HRA Pharma.
Key manufacturers operating in the mitotane market are keen on implementing new and differentiating strategies to meet not only the product demand, but also to lead the regional market. These companies are focused on leveraging their global reach, creating new sales opportunities, leveraging their existing client base for growth prospects & development, joint ventures, partnerships, and mergers & acquisitions.
Mitotane Market: Additional Questions Answered
Some of the additional questions addressed in this report on the mitotane market are as follows:
What is the revenue potential of the mitotane markets across Latin America, East & South Asia, and MEA?
Who are the key competitors and what are their portfolios in the mitotane market?
What are the major challenges influencing the growth of the mitotane market?
How is intervention from regulatory authorities shaping the growth of the mitotane market?
Research Methodology
The mitotane market has been assessed based on an epidemiology-based approach. The market was studied by estimating the base year market side in different regions/countries. In addition, the market was estimated based on the usage of reagent kits in the top 20 countries worldwide.
Other qualitative factors analyzed during market value estimation includes awareness about the usage of mitotane, which include prescription pattern, drug adoption rate, and the availability of mitotane tablets. This information was further validated with rigorous primary research such as interviews, surveys, in-person interactions, and viewpoints of seasoned analysts, as well as secondary research, which includes verified paid sources, authentic trade journals, and resourceful databases.
The research study on the mitotane market also includes top trends and macro as well as microeconomic factors shaping the mitotane market. With this approach, the report on the mitotane market estimates the industry attractiveness of every major segment in the mitotane market during the forecast period.