Key Questions Answered in Report
What is the expected growth rate for the li-ion pouch battery market through 2031?

By value, Persistence Market Research has projected 9.6% CAGR for lithium-ion pouch battery sales during 2021-2031. In terms of volume, demand is expected to increase at over 14% CAGR over the same period.

Which are the most lucrative markets for lithium-ion pouch battery manufacturers?

As per Persistence Market Research projections, the United States, China, South Korea, ASEAN, and India are markets expanding at high CAGRs. Together, East Asia and South Asia Pacific are projected to hold around 1/3 market share through 2031.

Who are the prominent manufacturers of li-ion pouch batteries?

Top suppliers of li-ion pouch batteries include tier-1 companies such as Contemporary Amperex Technology Co., Ltd., Panasonic Industrial Corporation, Toshiba Corporation and SK Innovation ,who together accounted for around 21% share of global revenue in 2020.
Report Also Addresses:
Market Estimates and Forecasts (2016-2031)
Key Drivers and Restraints Shaping Market Growth
Segment-wise, Country-wise, and Region-wise Analysis
Competition Mapping and Benchmarking
Brand Share and Market Share Analysis
Key Product Innovations and Regulatory Climate
COVID-19 Impact on Li-Ion Pouch batteries and How to Navigate
Recommendation on Key Winning Strategies
Sales of Li-Ion Pouch Batteries from 2016 to 2020 Vs Market Projections for 2021 to 2031
Historically, from 2016 to 2020, use of lithium-ion pouch batteries increased at around 4% CAGR, wherein, developed countries such as the U.S., Canada, Germany, and the U.K. held significant share in the global market.
Prices of the li-ion batteries and other substitutes are decreasing due to extensive use in electric vehicles and for power resilience to power grids. With rise in production and technological developments in the field of lithium-ion batteries, they are becoming cheaper to produce.
Shift in customer demand from fossil fuel vehicles to electric vehicles, and from old standard cell phones to new advanced smart phones, is also driving demand. The li-ion pouch battery market is projected to expand at a CAGR of 9.6% over the next ten years.
What are the Key Opportunities for Li-Ion Pouch Battery Manufacturers?
Increasing growth of the automotive industry in developing countries indicates substantial rise in demand for li-ion batteries which includes battery packs and pouch cells. Developing countries show enormous market potential for energy storage systems.
In developing countries, where other flexible options such as natural gas generation and cross border interconnections might not be sufficient, low cost renewable energy generation is on the rise. Today, the storage market is dominated by li-ion battery technologies that haven seen significant drop in cost over the last few years.
Automotive lithium-ion batteries, through their recycling capability, will play a crucial role over the coming years due to growing scarcity of raw materials and awareness.
What are the Roadblocks for Suppliers of Lithium-Ion Pouch Batteries?
Despite growing adoption of li-ion batteries in EVs and consumer electronics, these batteries can witness decay in hot conditions, which can trickle down the performance level of the batteries. Heat-related operational drawbacks are likely to remain significant challenges for manufacturers, which can impede market growth to some extent.
Apart from the better storage capacity from other types of batteries, li-ion batteries are expensive and harmful to travel with, and extra precautions are needed to avoid an explosion.
Which Region Offers the Largest Opportunity for Sales of Li-Ion Pouch Batteries?
With an absolute dollar opportunity of around US$ 5 Bn, East Asia is expected to be the most lucrative market for lithium-ion pouch battery manufacturers. China is leading the East Asian market, and is expected to witness significantly higher growth during 2021-2031. Majority of key players with higher market shares are also located in East Asia.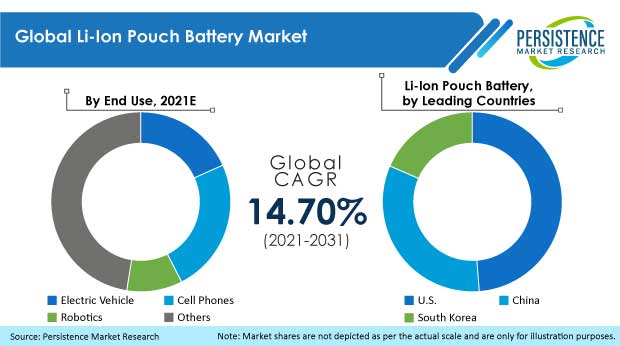 Country-wise Analysis
Will the Automotive Sector in the U.S. drive Demand for Li-Ion Pouch Batteries?
The market in the U.S. is projected to expand at over 9% CAGR through 2031, and hold more than ¾ share of the North America market.
The automotive sector is expected to be one of the major end-use segments for market growth in the U.S., as the government is encouraging investors in both, EV and renewable industries, resulting in increased demand for battery-based energy storage systems, primarily led by li-ion batteries.
Falling li-ion battery prices and improving technology are expected to bring price-competitive electric vehicles to the market, creating demand for li-ion battery technology in the near future. As the country is a pioneer in research and innovation on a global scale, manufacturers are trying to make these batteries more reliable and safer to use.
What Makes China a Prominent Market for Li-Ion Pouch Batteries?
The market for li-ion pouch batteries is expected to surge ahead in China at an impressive CAGR of 15% over the next ten years.
Availability of cheap labour gives China a huge advantage, which allow it to dominate the market for li-ion pouch batteries. China is also dominating the market due to huge domestic demand and control of refining and manufacturing capacity.
China's also has the advantage of raw material refining and mining. European countries and North America are trying to create their own battery champions to challenges Asian players.
Why are Manufacturers of Li-Ion Pouch Batteries Eyeing Germany?
Germany's electronics industry saw a strong increase in the battery market in the past few years. Demand for li-ion batteries and their sub-parts for daily use and also in electric vehicles to cut carbon emissions in transport is increasing.
Category-wise Insights
Which Chemistry is More Preferable for Li-Ion Pouch Batteries?
Lithium iron phosphate (LiFePO4) holds more than 1/3 market share due to its strong safety profile. LiFePO4 has extremely stable chemical property, and the phosphate in it makes the battery superior in thermal stability, thereby making them safer than li-ion batteries made with other cathode material.
Majority of battery-powered off-road vehicles uses LiFePO4 batteries that are less than half of the weight of traditional lead acid batteries. They are highly efficient and the battery capacity can be fully utilized without lowering the lifespan of the battery or reducing its capacity.
Which End User Holds Lucrative Opportunities for Li-Ion Pouch Battery Manufacturers?
Cell phones is the most lucrative end-use application, and represented over 23% demand for lithium-ion pouch batteries in 2020. The cell phone market and other accessories/end-use applications such as portable electronic devices are driving demand for these batteries.
Use of cell phones is increasing day by day due to urbanization and evolution in technology. Almost 55% to 60% of the global population uses cell phones and portable electronic devices such as iPod, MP3 player, etc.
Due to huge demand from cell phone and electric vehicle manufacturers, market players are implementing research methodologies to provide more storage capacity in these batteries and reducing their size.
How Has COVID-19 Impacted Sales of Li-Ion Pouch Batteries?
COVID-19 has affected the global economy resulting into significant decline in demand of products and raw material across regions. In Asia Pacific, China is the major supplier and manufacturer of li-ion batteries and cells. Due to government restrictions, major suppliers and manufacturers reduced their manufacturing capacities. Also, demand from the automotive industry declined in 2020.
Competitive Landscape
Persistence Market Research has profiled the following key li-ion pouch battery manufacturers in its report:
Panasonic Industrial Corporation
Toshiba Corporation
Gee Power
FDK Corporation
SK Innovation Co. Ltd.
Bestgo B Vertical Partners West LLC
EPEC,LLC
Enertech International Inc
A123 Systems LLC
FluxPower Battery Co., Ltd.
SOLAREDGE e-MOBILITY SpA
CUSTOM CELLS ITZEHOE GMBH
Fruedenberg Group
Leclanché SA
Echion Technologies
YOK Energy
Servovision Co. Ltd.
DNK Power Company Limited
Amperex Technology Limited
Shenzhen Ace Battery Co. Ltd.
Energy Innovation Group Ltd.
EVE Energy Co. Ltd.
Majority of companies discussed in the report have focused on product launches and expanding their manufacturing units in developing regions. Strategies include innovation, collaborations with key players, partnerships, strategic alliances, and strengthening of regional and global distribution networks. Some of the key developments are:
In February 2021, FDK Corporation announced plans to extend its assembly line for high power cylindrical-type primary lithium-ion batteries to increase production capacity by 25%.
In April 2021, SK Innovation collaborated with Hyundai Motors and Kia to jointly develop electric vehicle batteries with mass production and installation, which is expected to start in 2024.
In April 2021, Flux Power Holding launched its next generation M24 lithium-ion battery pack, which can be commonly used in warehouses and distribution centers; the M24 delivers 244 V, 420 Amp and can last for 3,500 cycles.
In October 2020, Leclanche SA was selected by Siemens Energy and Shiptec to supply battery storage systems for CGN's futuristic hybrid boats on Lake Geneva in Switzerland.
Similarly, recent developments related to companies manufacturing lithium-ion pouch batteries have been tracked by the team at Persistence Market Research, which are available in the full report.
Report Scope
Attribute
Details

Forecast Period

2021-2031

Historical Data Available for

2016-2020

Market Analysis

US$ Mn for Value

Key Regions Covered

North America
Latin America
Europe
Middle East and Africa
East Asia
South Asia Pacific

Key Countries Covered

United States
Canada
Brazil
Mexico
Germany
U.K.
France
Spain
Italy
BENELUX
Russia
China
Japan
Taiwan
South Korea
India
ASEAN
ANZ
KSA
South Africa
Turkey

Key Segments Covered

Chemistry
Capacity
Thickness
Rated Voltage
End Use
Region

Key Companies Profiled

Panasonic Industrial Corporation
Toshiba Corporation
Gee Power
FDK Corporation
SK Innovation Co. Ltd.
Bestgo B Vertical Partners West LLC
EPEC LLC
Enertech International Inc
A123 Systems LLC
FluxPower Battery Co. Ltd.
SOLAREDGE e-MOBILITY SpA
CUSTOM CELLS ITZEHOE GMBH
Fruedenberg Group
Leclanché SA
Echion Technologies
YOK Energy
Servovision Co. Ltd.
DNK Power Company Limited
Amperex Technology Limited
Shenzhen Ace Battery Co. Ltd.
Energy Innovation Group Ltd.
EVE Energy Co. Ltd.

Pricing

Available upon Request
Key Market Segments Covered
By Chemistry
Lithium Cobalt Oxide
Lithium Manganese Oxide
Lithium Nickel Manganese Cobalt Oxide
Lithium Iron Phosphate
Lithium Titanate
By Capacity
1 - 3Ah Li-Ion Pouch Batteries
5 - 10Ah Li-Ion Pouch Batteries
10 - 15Ah Li-Ion Pouch Batteries
16 - 30Ah Li-Ion Pouch Batteries
40 - 50Ah Li-Ion Pouch Batteries
50 - 100Ah Li-Ion Pouch Batteries
By Thickness
6mm Li-Ion Pouch Batteries
7mm Li-Ion Pouch Batteries
8mm Li-Ion Pouch Batteries
9mm Li-Ion Pouch Batteries
10mm Li-Ion Pouch Batteries
11mm Li-Ion Pouch Batteries
12mm Li-Ion Pouch Batteries
By Rated Voltage
6V Li-Ion Pouch Batteries
12V Li-Ion Pouch Batteries
24V Li-Ion Pouch Batteries
48V Li-Ion Pouch Batteries
60 - 72V Li-Ion Pouch Batteries
96V Li-Ion Pouch Batteries
By End User
Li-Ion Pouch Batteries for Electric Vehicles
Li-Ion Pouch Batteries for Cell Phones
Li-Ion Pouch Batteries for Battery Powered Off-Road Vehicles
Li-Ion Pouch Batteries for Robotics
Li-Ion Pouch Batteries for Energy Storage Systems
Li-Ion Pouch Batteries for Portable Electronic Devices
Li-Ion Pouch Batteries for Utility Meters
Li-Ion Pouch Batteries for Medical Measurements and Portable Devices
By Region
North America
Latin America
Europe
East Asia
South Asia Pacific
Middle East and Africa