Global Lanolin Market – Key Research Findings
The global lanolin market was valuated at around US$ 795 Mn in 2018, and is assessed to grow at a 5.6% CAGR over 2018–2028.
On the basis of consumption, East Asia and South Asia Pacific are expected to register high value and volume growth in the lanolin market over the forecast period.

Substantial growth of key industries such as pharmaceuticals, cosmetics & personal care, and leather & textiles, among others, in China, is the preliminary driving factor for the growth of the lanolin market.
Low labor cost and production cost, and slightly lenient regulations regarding animal welfare in these regions would encourage manufacturers to expand their manufacturing facilities in these regions, which, in turn, is expected to drive the demand for lanolin.

The lanolin market in Europe and North America is estimated to register moderate growth in the lanolin market over the forecast period.

Shifting preference towards the adoption of plant-based or vegan personal care products is the main factor impacting the demand for lanolin.

Increasing demand for bio-lubricants is surging the demand for lanolin, owing to increasing industrial activities.

Increasing application areas in industrial applications such as bio-lubricants, anti-corrosive agents, metal cutting fluids, etc., are expected fuel the demand for lanolin.

Pharmaceutical Grade Lanolin to Hold a Lion's Share of the Market

The increasing demand for high quality lanolin in the manufacturing of cosmetics & personal care products, and pharmaceutical products, coupled with the shifting preference towards the adoption of pharmaceuticals and personal care products comprised of natural ingredients, is anticipated to increase the demand for pharmaceutical grade lanolin around the globe.
Key Driving Factors for the Lanolin Market
Prominence in Cosmetics & Personal Care Applications
Lanolin is noted to be an active ingredient in the cosmetics & personal care industry for a variety of applications. Being used in several applications as an emulsifier, emollient, moisturizer, and stabilizer, lanolin serves as a one-stop solution for the cosmetics & personal care industry.
It is also used in lip care product formulations, including lip balms and lipsticks. Being a high revenue-generating segment for the cosmetics industry, the growth of this segment will propel the growth of the lanolin market.
Moreover, lanolin products are also used in several baby care applications, such as for treating diaper rashes, chapped lips, and skin eczema, due to their healing effect and moisturizing nature on tender and sensitive skin. The rising inclination towards using ultra-sensitive products for baby care applications is further fueling the demand for lanolin. Widespread growth noted in the men's care product line is leading to a surge in several ingredients used in the formulation of the same.
Lanolin is widely prominent in such applications, and is anticipated to remain driven throughout the forecast period. Rising disposable income has been termed as one of the significant factors pushing the demand in the cosmetics & personal care industry, and has an indirect, but considerable impact on the consumption of lanolin.
Shift from Mineral Oil-based Lubricants
The inclination of several end-use industries utilizing lubricants has been showcasing optimistic signs of shifting towards bio-based lubricants, rather than mineral oil-based lubricants. Such a trend showcases vast demand from the industrial sector to utilize lanolin as a lubricant in their applications. The rising awareness around the depletion of natural resources, including mineral oil, adds up to the growing demand, which is further fueled by the economic feasibility of using lanolin.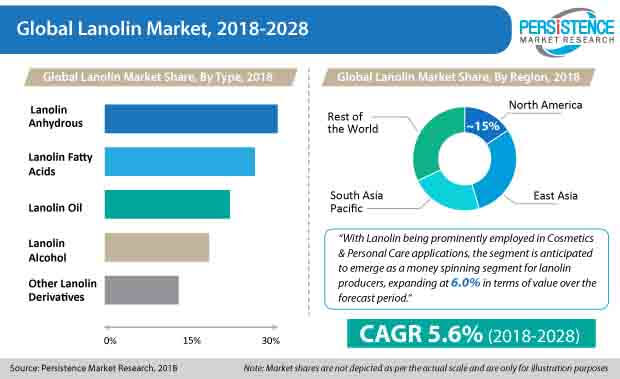 Lanolin Market Structure Analysis
The global lanolin market is a moderately fragmented market, due to the presence of unorganized local manufacturers.
Moreover, ambiguities in raw material prices for lanolin has been observed in developed and developing regions. Fluctuating wool production in key regions, and increasing regulations pertaining to animal welfare and animal protection are affecting wool production, which, in turn, is affecting raw material cost.
Some of the key market participants operating in the global lanolin market include The Lubrizol Corporation, Croda International Plc., Elementis Specialties, Inc., Nippon Fine Chemical, NK Ingredients Pte Ltd., and Rolex Lanolin Products Ltd., among others.
Several key players maintain strategic focus on East and South Asia markets, due to increasing industrial activities and technological advancements.
- Companies Covered in This Report -
The Lubrizol Corporation
Elementis Pls
Lanotec Australia Pty Ltd
Maypro Industries
Rolex Lanolin Products Limited (RLPL)
Nippon Fine Chemical Co., Ltd.
NK Ingredients Pte Ltd
Assumptions and Acronyms Used
Research Methodology