Introduction
Multi-factor authentication (MFA) is an authentication process where at least two different factors of proof are required. Three main types of authentication are something you know (such as a password), something you have (such as a card or token), and something you are (biometrics).
Biometric identification utilizes physiological and behavioral characteristics to authenticate a person's identity. MFA has become a popular tool for organizations to authenticate the identity of employees and vendors using a corporate network.
Iris biometrics software provides one of the most secure methods of authentication and identification due to its unique characteristics of the iris. This technology replaces current methods of passwords, token cards, or PINs, and if used in conjunction with something the user knows in a two-factor authentication system, then the authentication becomes even stronger.
Various government organizations in several countries are enrolling iris recognition systems for convenience purposes, such as passport-free automated border-crossings and national ID programs. For instance, the Government of India has adopted iris-based biometrics in conjunction with national ID cards to authenticate people for social service benefits, passports, voter registration, and many other uses. Thus, rise in the adoption of iris biometric solutions among government agencies is expected to expand the iris biometrics market size over the coming years.
Rise in Adoption of Iris Biometrics Technology in Consumer Electronics
Over the past few years, iris biometrics technology has made its way into consumer mobile devices, a development that has some heralding the rise of iris recognition in FinTech, IoT, and other hot verticals. Iris recognition has been widely rolled out on mobile devices as a part of the two-factor authentication process for privileged access to apps such as Internet banking and even secure email access.
Samsung is the first to introduce iris recognition technology into its phones, as a method of authenticating and unlocking the device. Samsung's Galaxy Note7, Lumia 950, Lumia 950 XL, and multiple editions of Fujitsu Arrows devices are seen as a pioneer in the world of smartphone iris biometrics.
Continuous innovations in iris biometrics and increasing penetration of this technology in consumer electronics will drive the growth of the iris biometrics market in the coming years.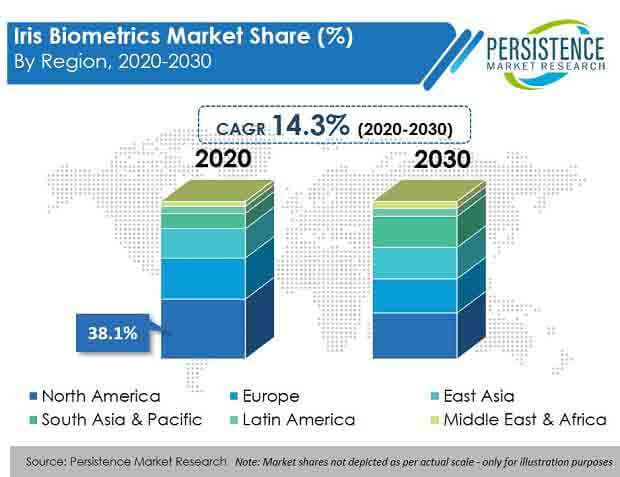 Regional Outlook of Iris Biometrics Market
In terms of value, North America led the global iris biometrics market share in 2019, due to the presence of a number of key players in the region. However, developing regions such as South Asia & Pacific are expected to record higher growth rates over the forecast period, owing to increasing adoption of iris biometric tools among governments and law enforcement agencies.
Rising security concerns and need for iris recognition technology in E-Passport and national ID programs are key factors that are predicted to ensure the development of this region in the global iris biometrics market in the coming years.
Iris Biometrics Market – Competition Landscape
Product launches, enhancement in existing products, acquisitions, and partnerships with niche players are key strategies followed by leading iris biometrics market players. Some leading players in the iris biometrics market are Thales Group, M2SYS Technology, HID Global, IRIS S.A., IDEMIA, BioEnable Technologies, NEC Corporation, and IrisGuard, Inc.
Impact of COVID- 19 Outbreak on Iris Biometrics Market
The spread of novel coronavirus has influenced many organizations and individuals into adopt new practices, such as wearing masks and social distancing. The crisis enveloping millions of people around the world is also presenting an unlikely business opportunity in the sector of biometrics. Contactless biometric systems aimed at combatting the COVID-19 virus are being launched at a significant rate.
Wearing facial masks has become normal in people's daily lives, and as such, face recognition applications that were commonly used for unlocking mobile phones have met serious challenges. This, in turn, could accelerate and promote the wider use of iris recognition technology.
The adoption of iris recognition technology has shown significant growth during the pandemic, as it could help resolve technical barriers presented when face identification is unavailable as the user's face is covered by a mask. According to PMR analysis, in 2020, demand for iris biometric solutions will increase by 8% - 10% across organizations, thereby propelling the growth of the iris biometrics industry.
Analysts' Viewpoint
A comprehensive view of the iris biometrics market trends has led our analysts to conclude that, the market is escalating at a significant rate. Regions such as North America and Europe hold a large share of the global iris biometrics market. Alliances with other tech providers along with regional expansion are some strategies being opted by key players to fuel their sales growth.
Iris Biometrics Market: Segmentation
PMR's research study on the global iris biometrics market offers a detailed market taxonomy, wherein, key segments have been discussed in detail. The segmentation of the iris biometrics market has been offered on the basis of component, application, end-use industry, and region. Every segment has been analyzed in detail, and data pertaining to the growth of each segment has been included in the study.
Component

Iris Scanners
Iris Recognition Software
Services

Integration & Deployment
Biometrics Consulting
Support & Maintenance

Application

Access Control
Identity Verification
Payments

End-use Industry

Military
Government & Law Enforcement
Banking & Financial Services
Healthcare
Consumer Electronics
Others

Region

North America
Latin America
Europe
East Asia
South Asia & Pacific
Middle East & Africa
Iris Biometrics Market: Key Questions Answered in Report
The research study on the iris biometrics market offers inclusive insights about the growth of the market in the most comprehensible manner for the better understanding of users. Insights offered in the iris biometrics market report answer some of the most salient questions that assist the stakeholders in gauging all the emerging possibilities.
How has the rapidly changing business environment turned into a major growth engine for the iris biometrics market?
What are the underlying macroeconomic factors impacting the growth of the iris biometrics market?
What are the key trends that are constantly shaping the growth of the iris biometrics market?
Which are the prominent regions offering plentiful opportunities for the iris biometrics market?
What are the key differential strategies adopted by key players to command a significant chunk of the global market share?
How is the COVID-19 pandemic impacting the global iris biometrics market?