Introduction
Development of fast track systems in transportation has ensured the smooth flow of goods in case of intermodal transport. Security is one of the major concerns for shippers when it comes to transportation.
Many railroads have developed automated gate systems at intermodal ramps. AGS systems include optical character recognition, biometric identification, and high definition video imaging.
Such tools are developed to promote efficiency while maintaining safety and security. All these developments are facilitating the expansion of the intermodal transport market size.
Further, the FMCG sector prefers those transport services that bring products quickly to the market without incurring high costs. As such, this is another sector that has inclined toward the adoption of intermodal transport due to factors such as cost efficiency and eco-friendly transport mode. Increased utilization of intermodal is now a part of many organization's supply chain strategies. Kimberly-Clark is one such well-known organization that stresses more on the utilization of intermodal freight transport in its supply chain.
Intermodal Transport Market Trends
Corporate Shift toward Sustainable Operations Aiding Market Growth: Companies today are more concerned about their sustainability goals. Rapid changes in consumer behavior and increasing environment-consciousness have encouraged corporates to adapt sustainable options and solutions in business operations.
This rapidly growing sustainability concept today, not only prevails in production operations but also supply chain operations. Global trade is increasing, and players in the market are focused on reducing their carbon footprints. This has compelled corporates to adopt more eco-friendly solutions in all possible business operations.
It has also facilitated growth in the adoption of intermodal transport by corporates in the market. Such rising environmental awareness is expected to open up new opportunities for the intermodal transport market over the coming years.
Adoption of Intermodal Transport by Strategic & Transactional Shippers: In the past, strategic & transactional shippers used to prefer traditional transport modes due to higher reliability.
But, due to less capacity and higher truckload prices, many shippers have now shifted toward the adoption of intermodal transport services. Such a shift has facilitated the growth of the intermodal transport market space.
Strategic shippers that have been looking to elongate their cargo transits have found a great deal of success in intermodal freight transport.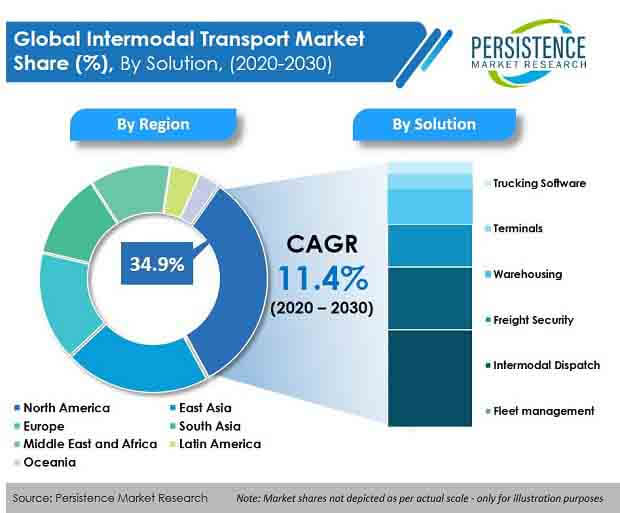 Regional Outlook of Intermodal Transport Market
North America dominates the intermodal transport market share in terms of presence, followed by the Asia, due to improvements in intermodal shipment visibility and increased demand for intermodal transport from the automotive industry. However, the market in Asia, especially East Asia will grow at the highest rate through 2030.
Intermodal Transport Market: Competition Overview
The intermodal transport market is anticipated to be highly fragmented, where a large number of local players are actively operating in the global market space. Players are seeking opportunities and focusing consistently on digital platforms.
Further, players in the intermodal transport market are focusing on strengthening their market footprints across the world and providing innovative solutions to customers, so as to have a competitive advantage in this industry.
For instance, in June 2020, FedEx Logistics, Inc., a subsidiary of FedEx Corporation, provided essential supply chain services to hospitals to fight against the on-going COVID-19 pandemic. The company distributed personal protective equipment (PPE) kits from its logistic facility to hospitals in Latin America and the Caribbean.
COVID-19 Impact on Intermodal Transport Market
The world has been crippled by the COVID-19 outbreak, with most countries and sectors facing hardships. Travel and trade were the first to be suspended in order to curb the spread of the virus.
As such, the growth of the global intermodal transport market was badly hit. As countries ease restrictions on lockdowns, travel, and trade, intermodal cargo will gain pace, and the market is expected to get back to its original growth trajectory and surge ahead.
Analysts' Viewpoint
A brief overview of the changing landscape of the intermodal transport market has led our analysts to conclude that, the market is significantly gaining popularity in developing regions. The market will register significant expansion and growth opportunities for players over the following years across East Asia and South Asia. However, the COVID-19 pandemic outbreak has resulted in disruptions in operations (production and supply chain). Regional governments are undertaking initiatives and development actions in order to promote sustainability in the transport sector. Rising environmental consciousness has encouraged the adoption of intermodal freight transport services across the world.
Intermodal Transport Market: Segmentation
PMR's research study on the global intermodal transport market offers a detailed market taxonomy, wherein, key segments have been discussed in detail. The intermodal transport market is segmented on the basis of solution, vertical, service, type of mode, mode of ownership, and region. Every segment is analyzed in detail, and data pertaining to the growth of each segment has been included in the study.
Attribute
Details

Solution

Fleet Management
Intermodal Dispatch
Freight Security
Terminals
Warehousing
Trucking Software

Vertical

Consumer & Retail
Oil & Gas
Manufacturing Industry
Energy & Utility
Mining
Aviation
Construction
Chemicals
Pharmaceuticals & Healthcare
Food & Beverages
Others

Service

Managed Services
Consulting Services
Customization Services

Type of Mode

Rail-Road
Road-Water
Road-Air
Others

Mode of Ownership

Asset Owned
Manufacturers
Trade Integrators

Region

North America
Latin America
Europe
South Asia
East Asia
Oceania
Middle East & Africa (MEA)
The intermodal transport market research report includes a competitive landscape that provides a dashboard view of the key competitors operating in the market. Some of the market players included in this section are Deutsche Post DHL Group, DB Schenker, FedEx Corporation, DSV Panalpina, Yusen Logistics Co, Ltd., Kuehne + Nagel, XPO Logistics, Inc., Evans Delivery Company, Inc., Hub Group, Swift Transportation Company, GE Transportation, HighJump Software, TMW Systems, Trinium Trucking Systems, and others.
Intermodal Transport Market: Key Questions Answered in Report
The research study on the intermodal transport market offers inclusive insights about the growth of the market in the most comprehensive manner. Key insights offered in the intermodal transport market report answer some of the most salient questions that assist stakeholders in gauging all the emerging possibilities.
How is the outbreak of the coronavirus pandemic impacting the growth of the intermodal transport market?
What are the key trends that are constantly shaping growth of the intermodal transport market?
Which are the prominent regions that offer plentiful opportunities for players in the intermodal transport market?
What are the differential strategies adopted by key players to hold a significant share in the global intermodal transport market?