Introduction
The global market for evaporation materials is estimated to account for US$ 1,243 Mn by the end of 2017 and is projected to reach a market value of US$ 2,185 Mn by 2025 end, exhibiting a CAGR of 7.3% during the forecast period (2017–2025). Global evaporation materials market is anticipated to represent incremental opportunity of US$ 942 Mn between 2017 and 2025.
Technological advantages as compared to sputtering targets fueling the global evaporation materials market
Evaporation materials provide very high purity coatings when compared to sputtering targets as well as chemical vapor deposition, due to the high vacuum condition used by evaporation. In addition, very high film deposition rates are attained in evaporation materials as compared to sputtering targets.
There is also a relatively lesser substrate surface damage caused due to impinging atoms as the film is being shaped. In contrast, sputtering causes more damage as it comprises high energy particles. There is also a lesser tendency for unintentional substrate heating in evaporation materials. These application advantages of evaporation materials are driving the growth of the evaporation materials market at a global level.
It should be noted that thermal evaporation is a more established technology as compared to sputtering. It is a well-developed technology with ease of availability of skillful and trained operators all over the world as compared to sputtering technology.
In addition, the varied applications of thermal evaporation in terms of coating varied material types for standard coating applications is expected to strongly drive the global evaporation materials market. This has been fueling a preferential demand for evaporation materials in various applications across diverse industries.
Government support for solar power initiatives boosting the market for evaporation materials
It has been observed that governments of various countries such as China and India have been promoting the implementation of renewable energy. One of the important adoptions are the solar panels used to harness solar energy. The demand for evaporation materials is quite high from solar panel manufacturers.
The growth of the solar energy industry, which is being driven by government initiatives, is expected to boost the growth rate of the global evaporation materials market. The stable rise in demand for thin film solar panels is also a major driving factor with regards to solar energy applications.
Difficulties in evaporation rate control of finished products may affect the quality of evaporation material coatings
The quality of evaporation material coatings highly relies on the evaporation rates of materials, which need to be accurately controlled. If not controlled properly, many disparities arise with regards to the efficiency of coatings produced. Also, lower density coatings as compared to those obtained from the use of sputtering targets can be obtained using evaporation materials.
In addition, the prices of evaporation materials are relatively more volatile vis-à-vis those of materials used in other vapor deposition technology. This may restrict the growth rate of the global evaporation materials market as industries resort to alternative applications for ensuring sustainable profitability.
Global Evaporation Materials Market Analysis, by Application
The electronics and power & energy segments together are expected to dominate the global evaporation materials market in terms of value over the forecast period, on account of higher demand growth as compared to other segments. The power & energy segment is expected to create incremental $ opportunity of US$ 293.4 Mn over the forecast period.
The power & energy segment by application is expected to witness the highest Y-o-Y growth rate over the forecast period. The electronics application segment is expected to be the most attractive in terms of incremental opportunity index over the forecast period.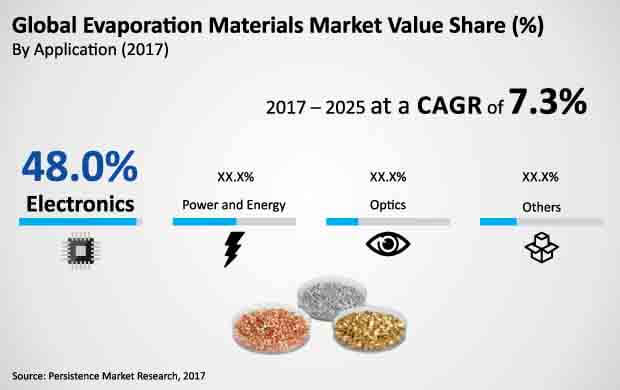 Growing demand from electronics and optical applications is fueling the market growth of evaporation materials
Recently, there has been a rising demand for semiconductors, microelectronic and other electronic components such as flat panel displays and data storage devices across the globe. This in turn is expected to drive the demand for evaporation materials used during the manufacturing and processing of these electronic products, components and parts.
Owing to the large, growing electronics industry in countries such as China, Japan, Korea and Taiwan, the Asia Pacific region is expected to dominate in terms of demand for evaporation materials. Also, the rising demand for optical coatings for various applications is expected to continue to fuel revenue growth of the global evaporation materials market in the next few years.
Market Taxonomy
Attribute
Details

By Material Type

Metals

Precious metals
Non-precious metals

Alloys
Compounds
Others

By Application

Electronics
Optics
Power and Energy
Others

Region

North America
Latin America
Europe
Asia Pacific
Middle East and Africa
- Companies Covered in This Report -
Materion Corporation
Umicore Group
ULVAC, Inc.
Nichia Corporation
China Rare Metal Material Co., Ltd.
GRIKIN Advanced Materials Co., Ltd.
Canon Optron Inc.
Plasmaterials Inc.
Process Materials, Inc.
The Kurt J. Lesker Company
Aida Chemical Industries Co., Ltd.
Others.