Increasing incidence of dengue boosting the global dengue testing market
The number of cases of dengue are growing rapidly during the past few years. Major regions of the world that are affected by dengue are Africa, the Americas, the Eastern Mediterranean, Southeast Asia and the Western Pacific. As per the numbers provided by WHO, the number of reported cases is continuously increasing. Americas reported more than 2.38 million cases of dengue, in which Brazil alone contributed 1.5 million cases, which is approximately three times higher than those reported in 2014.
The Western Pacific region reported more than 375,000 suspected cases of dengue in 2016, of which the Philippines reported 176,411 cases and Malaysia reported 100,028 cases. A rising prevalence of dengue virus has raised the demand for diagnostic kits, which is expected to drive the dengue testing market in the near future.
Climate change is increasing the prevalence of dengue fever across the globe
There have been recent outbreaks of dengue, chikungunya and West Nile virus in countries that were previously free from such kind of diseases. This signals some of the potential threats with respect to change in climate and global warming. Changes in climate have increased the current and future risk in countries of the European region. Due to a change in the climate of European countries, there has been a great impact on the vector distribution and potential disease transmission. High rainfall increases the number of breeding sites, whereas humidity influences the lifespan of mosquitos.
Also, curtailed water supply and disrupted sanitation services lead to conditions that facilitate mosquito breeding and proliferation, while warm temperatures lead to longer active season for mosquitos. Change in climate is likely to increase the burden of dengue fever, and this in turn will propel the growth of the market of dengue testing.
Introduction of cost-effective and reliable test kits and devices will strengthen the dengue testing market
Presently, the diagnostic test kits that are available for testing dengue are less effective. Due to the unavailability of effective diagnostic tools and high price of existing test kits, a need has been created for cost effective test kits with high specificity and sensitivity. As a result, companies operating in the market are currently focusing on the development of cost-effective and reliable test methods for dengue testing. In addition, increasing research and development activities to develop highly specific and sensitive diagnostic kits is also expected to create new growth opportunities for the manufacturers of dengue test kits.
The major focus of the manufacturers is to develop point-of-care tests, which are rapid, sensitive and easy to use. Presently, a large number of methods for the detection of dengue virus are still dependent on cell culture and mice inoculation and such type of methods are slow and costly. Hence, there is a strong need of developing rapid, easy to use and sensitive methods for detection of dengue.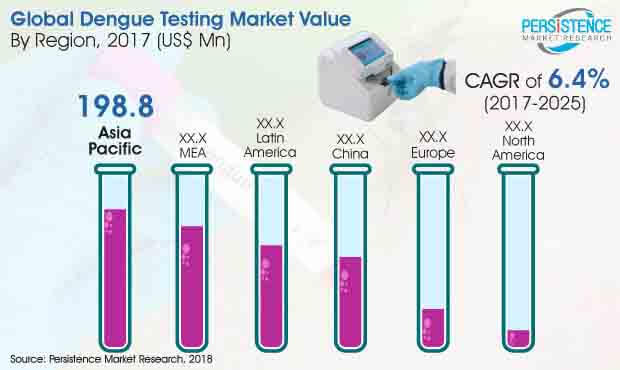 Global Dengue Testing Market, By Region
The global dengue testing market was dominated by Asia Pacific region in revenue terms in 2017 and this trend is expected to sustain itself throughout the forecast period. Asia Pacific is projected to be the most attractive dengue testing market. Asia Pacific dengue testing market accounted for 44.1 percent share in 2016 and this share is going to reach 43.6 percent by 2025 end.
Market Taxonomy
Product Type

ELISA-based Tests
RT-PCR based Tests
Dengue IgG/IgM Rapid Test

End User

Hospitals
Public Health Laboratory
Diagnostic Centers
Others

Region

North America
Latin America
Europe
APAC
MEA
China
Key Questions Answered
How the market has performed over the past few years?
What have been the challenges for market participants and how did they overcome them?
How the competitors have performed and what have been their growth strategies?
What is the market potential expected to look like in near future across the globe?
What should be the future course of action?
Where do I currently stand?
Which are the segments, factors, regions offering promising growth potential?
What are the trends in the market and am I ready for them?
- Companies Covered in This Report -
Abnova Corporation
Roche Molecular Systems Inc.
Abbott Laboratories
InBios International, Inc.
NovaTec Immundiagnostica GmbH
Euroimmun AG (Sub. PerkinElmer)
Quest Diagnostics
Certest Biotec S.L.
OriGene Technologies
Thermo Fisher Scientific Inc.
Others.