Will Oxo-biodegradable Plastics Manage to Gain Recognition as Widely Adopted Sustainable Packaging Material?
---
Date : May 13, 2018 Author : PMR Editorial Staff Category : Business
Use of Oxo-Biodegradable Plastic Packaging in the Pharmaceutical and Healthcare End Use Industry to Increase in the Near Future
Plastic, a crucial component used in packaging various end-use products, has been vital for the packaging industry since the past few decades. However, with plastic comes a possibility of it ending up in landfill. With a growing environmental concern, researchers are constantly trying their hands at discovering various eco-friendly solutions. A large number of manufacturers have started to adopt oxo-biodegradable plastic packaging as a sustainable solution, which triggers the growth of a new market on a global level.
The recent research studies indicate that oxo-biodegradable plastics discarded in landfills can degrade relatively faster in the presence of oxygen to assist the process. While other types of degradable plastics tend to release methane post-degradation, oxo-biodegradable plastics do not; which makes them stand out. Moreover, these plastics have a longer shelf life that can even last for several years in case of indoor storage, and they are recyclable.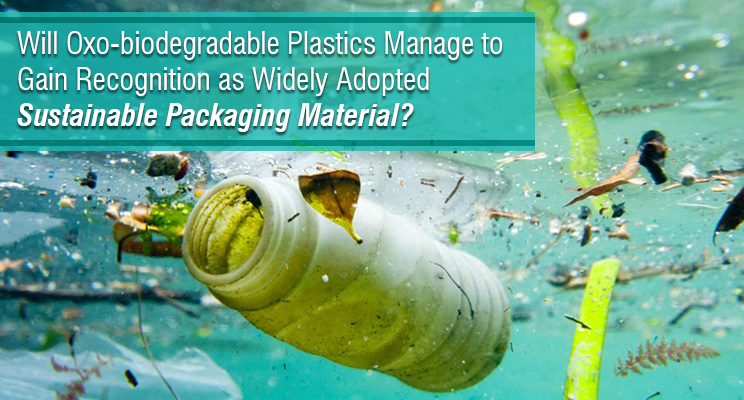 Market Scenario : The global market for oxo-biodegradable plastic packaging is currently worth US$ 637 Mn, which is assumed to cross US$ 1 Bn by the end of 2026.With soaring demand for oxo-biodegradable plastics, the production of polyethylene material will also surge, followed by that of polyethylene terephthalate. The sales of oxo-biodegradable garbage bags will possibly attain a value in excess of US$360 Mn by 2026 end. Healthcare and pharmaceutical industries stay ahead in using oxo-biodegradable plastic packaging, in addition to a few other domains, including food and beverages.
The Dilemma
The supporters and adopters of using oxo-degradable plastics in packaging goods are claiming that these plastics are 60% biodegradable but apparently leaving 40% for speculation. However, the European Bioplastics refers to oxo-degradable plastics as misleading, and has already recognized and warned about the potential risks of using them in packaging, labeling, or any green-washing practices. The developed Western countries are thus still representing a nascent market for oxo-biodegradable plastics used in packaging.
Potential Growth Chances in Developing Countries
Developing Middle Eastern and African countries are likely to develop promisingly progressive markets in near future. Asian countries will also present attractive opportunities, owing to a growing presence of manufacturers and adopters of oxo-biodegradable plastics. Government regulations set for the use of environment-friendly packaging materials are identified to play a significant role in the market growth within some of the emerging countries.
Manufacturers in developing countries are focusing more on creating an enhanced brand image through introduction of a range of oxo-biodegradable plastic products. A few additional features are being added to these plastics by some of the leading brands, in order to incorporate additional features such as high machinability and printability, better heat seal strength and ink adhesion, and improved moisture restriction.
According to a research report recently published by Persistence Market Research, favorable government regulatory norms and emergence of innovative eco-friendly packaging solutions in the recent past will collectively drive the market for oxo-biodegradable plastic packaging in upcoming years.
---