Introduction
Rosin resin, in particular, is derived from pine chemicals that are extracted from pine trees using the pine tapping process. The use of bio-based materials over synthetic or petrochemical materials offers various advantages. For instance, bio-based materials are eco-friendly and degradable.
Further, due to the stable supply of bio-based sources, price fluctuations are low when compared to petrochemical-based materials. Rosin resins exhibit adjustable glass transition temperatures, low volume shrinkage, as well as improve elastic modulus, Young's modulus, shape-memory, flame retardancy, and corrosion protection features are present in comparison with petroleum-based compounds.
Furthermore, significant growth in adhesives & sealants as well as the cosmetics industry is anticipated to positively impact the expansion of the global rosin resins market size.
Rosin Resins Market Trends
Favorable Properties of Rosin to Drive its Application in Rubber, Ink, and Paper Industries: Rosin resin is an essential base material for the manufacturing of rubber. It is used as a softening agent in the production of rubber, so as to make rubber soft for kneading. Rosin resin can improve the physical properties of rubber, such as elasticity, surface finish, and cohesion.
Demand for rubber has been increasing at a significant rate across various end-use industries such as automotive, construction, and aerospace. This is expected to support the growth of the global rosin resins market during the forecast period of 2020 to 2030.
In the paper industry, rosin resin is used as a sizing agent for paper sizing, and can prevent paper from absorbing too much water and avoid hair slip while printing. In printing inks, rosin resin is primarily used as a color carrier and to increase adhesion to paper. The growth of the paper and printing ink industry is expected to lay a foundation for the significant growth of the rosin resins market over the coming years.
Increasing Adoption in Pharmaceutical Industry: With technological innovations in the pharmaceutical industry, product developments such as the formulation of microcapsules and nano-particles enables implementation of rosin resin in this industry.
Rosin resins also have terpene profile and high THC value, making them extremely medicinal potent. Moreover, rosin resins show excellent film forming and coating properties. Hence, they are also used for tablet film and enteric coating purposes, resulting in consumer inclination toward the adoption of rosin resins.
In addition, rosin resin is soluble in alcohol and gasoline, and thus, is used as an ingredient in paints and coatings. The paints & coatings industry has been witnessing steady growth, due to the growing demand from construction and automotive industries, subsequently fueling the growth of the rosin resins market space.
Manufacturers' Focus: Economic Range Products: Manufacturers in the global rosin resins market are continuously developing new production technologies to improve yield, minimize environmental footprint, radically reduce energy use, and improve product quality. Additionally, high efficiency analytical techniques such as mass spectrometry and gas chromatography have helped enhance the purity and quality of pine chemical products.
The global rosin resins market is a competitive market space, where end users demand economic products for their end products. In order to meet this demand, manufacturers are developing high quality and affordable products. This factor is also responsible for product innovation, which increases the demand for and sale of rosin resins.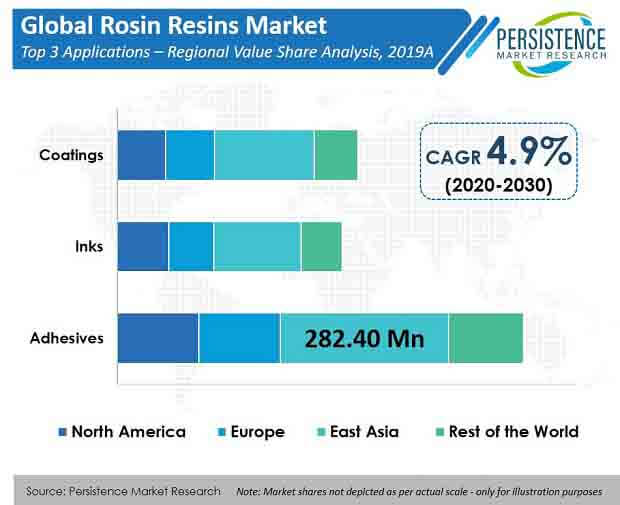 Regional Outlook of Rosin Resins Market
Globally, East Asia is significantly diverse in terms of geo-political conditions, customer base, and regulations as compared to other regions of the world. China is the largest producer of rosin resins, owing to prevalence of a large number of rosin resin manufacturers and availability of many pine fields in the country. Thus, China is estimated to hold a major rosin resins market share in terms of both, value and volume, and is expected to remain dominant in the coming years too.
Competition Overview of Rosin Resins Market
The global rosin resins market is a moderately fragmented one, with several global as well as medium- and small-scale players operating in the market space. Owing to the presence of a number of regional and domestic players, the market is highly competitive in nature. Some of the key players operating in the global rosin resins market are Eastman Chemical Company, Arakawa Chemical Industries Ltd, Lawter Inc., and Forestar Chemical Co., Ltd., among others.
COVID-19 Impact on Rosin Resins Market
The spread of COVID-19 has thrown the economies of almost all countries off gear. Trade restrictions, social distancing measures, and shutting down of numerous industries have affected the growth of the rosin resins market too. Demand has been hit, and supply chain disruptions have added to the problems of this sector. The market is expected to pick up pace once the pandemic has been brought under control.
Analysts' Viewpoint
Rosin resin is expected to be key substitute for many synthetic resins, due to its significant properties as compared to others. Manufacturers are focused on strengthening their global supply systems to continue meeting robust demand. Substantial demand from adhesives & sealants, printing inks, and paint & coatings industries will set the path for decent market growth in the coming years. The positive economic outlook of various emerging countries, increasing investments, and availability of pine farming are expected to create numerous opportunities for the growth of the rosin resins market.
Key Segments of Rosin Resins Market
PMR's study on the rosin resins market is divided into four significant segments - type, source, application, and region. This report offers comprehensive data and information about the important market dynamics and growth parameters related to these categories.
Type

Rosin Acids
Rosin Esters
Hydrogenated Rosin Resins
Dimerized Rosin Resins
Modified Rosin Resins

Source

Gum Rosin
Wood Rosin
Tall Oil Rosin

Application

Rubbers
Coatings
Inks
Adhesives
Food & Beverages
Cosmetics & Personal Care
Others

Region

North America
Latin America
Europe
South Asia & Pacific
East Asia
Middle East & Africa
Key Questions Answered in PMR's Rosin Resins Market Report
Which region is anticipated to hold a prominent market share over the forecast period?
What will be the key driving factors propelling the demand for rosin resins during the forecast period?
How current trends will impact the rosin resins market?
Who are the significant market participants in the rosin resins market?
What are the crucial strategies of prominent players in the rosin resins market to upscale their positions in this landscape?