40% Revenue Contribution of Leading Manufacturers
Microsurgery robot market is largely dominated tier 1 companies who are competing on the basis of product pricing in the microsurgery robot market. The consolidated nature of the market decreases the profitability of the business. However, growing awareness about minimally invasive surgeries and technological advancements in the field for robotics have increased the revenue opportunities for global manufacturers.
Companies, such as Intuitive Surgical, Medtronic, and Corindus, Inc. holds more than 50.0% revenue share in the global microsurgery robot market in 2017. These companies are continuously making efforts to launch novel product lines in microsurgery robot market. Further, companies operating in the microsurgery robot market are collaborating with local distributors/retailers to increase the penetration of their products in the microsurgery robot market. These companies are also partnering with research groups to create innovative robotic platforms for specialized surgeries.
Elimination of Tremor and Attainment of High Precision and Visualization
Microsurgery procedure requires a magnifier such as microscope due to complexities involved in handling blood vessels, nerves or tubes. The implementation of microsurgery robotic systems to perform such complex surgeries has achieved the goal of operating on precise surgical site and eliminating the risk of damaging surrounding tissues, cells or vessels. Microsurgeries are difficult due to inexactitude caused by hand tremor and vision restriction.
These limitations are excluded in robotic microsurgery. Robotic systems are provided with visualization and navigation systems that provide 3D view and easy direction towards surgical site. Additionally, micro instruments attached to the robotic systems perform the function of supplying energy, holding of vessels, etc. Varied applications for surgical procedures and availability of microsurgery robot at cheaper prices will lead to promising growth potential in microsurgery robot market.
Increasing Demand for Minimally Invasive Surgeries for Better Patient Outcome
Minimally invasive surgeries have a plethora of advantages over other techniques of surgeries, primarily due to less injury due to small invasions, less pain and scars, less hospital days. Robotic microsurgeries are minimally invasive surgeries allowing prevention from surgical site infections. Micro instruments attached to the robotic system allow surgical intervention through a small incision with is otherwise impossible for manual surgery. Moreover, ready availability of micro instruments is also pushing other key players to be a part of the microsurgery robot market.
Scope for Finding Potential Treatment for Manually Impossible Surgeries
Extensive research and development in robotics and mechatronics hold a potential to revenue opportunity for robotic systems. Complex microsurgeries such as neurosurgery, ophthalmology, otology, are highly sophisticated and requires extensive skill sets for execution. In recent years, microsurgery robots have set a growth path for such complex therapies, luring manufacturers to invest in research and development and aid medical science with robotic technology.
Reduction of Surgeon Discomfort
Microsurgery robots permit the surgeon to comfortably be in a rested position and perform surgery. These instruments reduces the visual strain because of real-time 3D imaging attributes. Increased surgeon concentration, dedication and work time with reduced fatigue is gained through the microsurgery robot, which considerably contributes to the boost of microsurgery robot market. Augmented reality and navigational system implemented in the robotic device further add to the comfort of surgeon during surgical intervention.
Agreements and Partnerships to Popularize the Product
Key players are acquiring local or small research organizations focused on surgical robotics technology. Hospitals are implementing the robotic systems to conduct clinical tests and publishing results of the systems, which widens the reach of the products across scientific community.
Partnership agreement with regional distributors is one of the key strategy followed by key players to penetrate into the global market. Recently, Corindus, Inc. entered with an agreement with MC Healthcare Group to strategize distribution their robot CorPath GRX in Japan, thus establishing their company footprint. TransEnterix Surgical's Senhance robot has installed in University Medical Center New Orleans, in May 2018.
Growing Demand for Specialized Robots
Companies operating in microsurgery robots are focusing on development of differentiated robotic systems to compete in the market from rest of the players. Different types of surgeries requires diverse techniques and instruments which is tried to be implemented in a robotic system to perform surgery. For instance, Preceyes BV is developing a robot that would assist in vitreoretinal surgery. Mazor X By Mazor Robotics and Medtronic is primarily focused on spine surgery.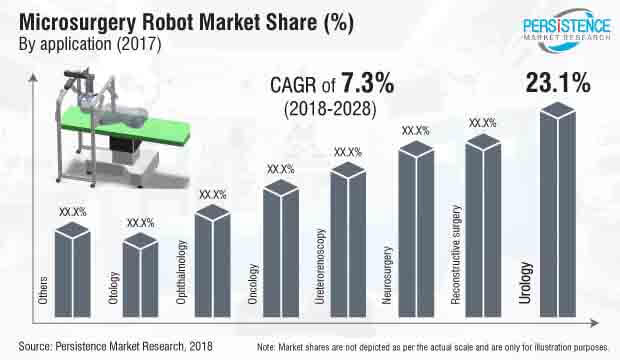 Competitive Landscape
Competition section of microsurgery robot market features profiles of key players operating in the industry based on their revenue market shares, differential strategies, product offerings, marketing approach. Some of the key players featured in this report include Intuitive Surgical, Stryker, Medtronic Plc., Zimmer Biomet, Globus Medical, Inc., Smith & Nephew plc, Corindus, Inc., Renishaw plc, TransEnterix Surgical, Inc.
Intuitive Surgical offers a range of products for microsurgery robot, which include Da Vinci Xi, Da Vinci X, and Da Vinci SP systems. Intuitive Surgical robotic systems were the first robotic surgical device to receive a FDA approval. Wide range of accessories for robotic surgery are manufactured and marketed by Intuitive Surgical.
The key manufacturers of microsurgery robot are focusing on novel marketing strategies to increase product penetration. The companies are partnering with regional distributors and hospitals for popularizing the product. These companies are offering free trials at conferences and seminars for surgeons. Demand for robotic precision and means of easy, accurate and minimally invasive surgery by patients and surgeons in hospitals and ambulatory surgical centers are expected to be the key targets channel for the manufacturers. For instance, Stryker entered into a partnership with 3D Systems for VSP and anatomical models for the craniomaxillofacial specialty and Medtronic partnered with Atlas General Hospital, Serbia, Globus Medical conducted first spine robotic surgery using Excelsius GPS at the Johns Hopkins Hospital in Baltimore, US.
Definition
Microsurgery robots are computational tools used to perform microsurgeries with ease. Robotic Microsurgery is a type of minimally invasive surgery which allows the surgical instrument penetration with least incision which is manually difficult to visualize and operate. Microsurgery robots are a result of combination of interdisciplinary fields like mechanics, electronics, computer science and medical science.
About the Report
PMR conducted a research study on microsurgery robot market for the forecast period 2018 to 2028. The microsurgery robot market report offers a comprehensive evaluation of the business opportunities prevailing in the microsurgery robot market along with insights on the microsurgery robot trends, research and development in robotic microsurgery and microsurgery robot market competition. The report elaborates on the macroeconomic factors influencing the dynamics of microsurgery robot market and its futuristic potential.
Segmentation
The report offers a comprehensive taxonomy of microsurgery robot market based on component, application, end user, and region. The product type segment in microsurgery robots market are divided as instrument and accessories. Application segment in microsurgery robots market include surgery types such as Urology, Otology, Ophthalmology, Neurosurgery, Oncology, Reconstructive surgery, Ureterorenoscopy, and others. The microsurgery robots market has been analyzed across regions of North America, Latin America, Europe, Asia Pacific Excluding Japan, Japan and MEA.
Additional Questions Answered
Some of the additional questions addressed in this report on microsurgery robot market-
What is the revenue potential of point microsurgery robot across regions of North America and Europe?
Who are the key competitors and what are their portfolios in microsurgery robot market?
What are major challenges influencing the growth of microsurgery robot market?
How intervention from regulatory authority is shaping the microsurgery robot market growth?
Research Methodology
The microsurgery robot market has been estimated based on supply-demand approach. The market was first calculated based on allergy test volume conducted in different region/countries. The product volume was estimated based on the incidence rate of various types of allergies in top 20 countries globally. Other qualitative factors analyzed during test volume estimation include awareness level for point care microsurgery robot, recurrence rate of allergy reaction and others.
This information is further validated with rigorous primary research (including interviews, surveys, in-person interactions, and viewpoints of seasoned analysts) and secondary research (including verified paid sources, authentic trade journals, and resourceful databases).
The research study on microsurgery robot market also includes top trends and macro as well as micro economic factors shaping the microsurgery robot market. With this approach, the report on microsurgery robot market anticipates the industry attractiveness of every major segment in microsurgery robot over the forecast period.