Introduction
Increase in the cases of insomnia, including the ones that go undiagnosed, is a severe public health concern. While effective and affordable treatment options are available in the global market, approximately 25% of adult population already suffer from sleeping disorders, of which around 6-10% have been diagnosed with insomnia.
With increased prevalence of insomnia, a growing number of patients is seeking pharmacological treatment. Presently, numerous options are available in the insomnia treatment market; however, research continues to be on the bandwagon, to seek newer pharmacological treatments.
As suggested by a recent conducted research study by Persistence Market Research, the global insomnia treatment market is projected to register a promising CAGR of 5.2% in terms of value during the forecast period 2018-2026. By the end of 2026, the market will possibly reach over a value worth US$ 7.5 billion.
Increasing consumption of OTC drugs & new innovations to fuel the market growth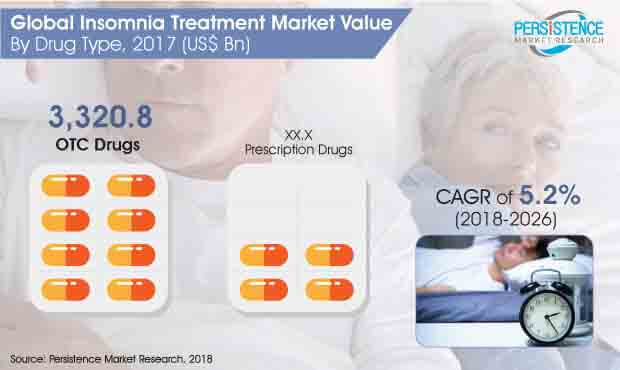 Millions of people are suffering from sleep-related disorders, and a majority of them have been preferring the OTC sleep medicines. According to United Nations, population in the age group of 60 years and above is projected to grow by 56% by 2030, which indicates that there is a growing geriatric population.
Majorly, this factor will increase the demand for OTC insomnia therapeutic, since this population base is more susceptible to sleep deprivation. Commonly, OTC sleep aid such as natrol melatonin and unisom sleep gel that has minimum side effects dominate the global insomnia treatment market. OTC drugs are expected to represent the maximum share of the market revenue through 2026.
As the need for improved treatment is increasing, leading pharmaceutical companies are focusing more on conducting vigorous research to find newer treatments. Several unique pharmacological categories, including neurokinin1 receptor antagonist, 5-HT1A agonist, 5-HT6 antagonist, H3 agonists, corticotropin-releasing hormone antagonists, cytokines, glutamatergic antagonists, and adenosine enhancers, are being investigated in order to introduce improved treatments to the market, in near future.
To treat chronic insomnia, cognitive behavioral therapy for insomnia (CBT-I) is also found to be a highly effective therapy, especially for older adults. Some other therapies used for the treatment of insomnia include Stimulus control therapy (SCT), Sleep-restriction therapy (SRT), Relaxation therapy, and Sleep hygiene and education (SHE).
Developing economies to present attractive markets; sizeable patient pool with undiagnosed insomnia to pave the way for opportunities
Developing countries such as China and India are expected to witness a growth in demand for healthcare facilities and sleep aids over the next few years. This would eventually create a series of opportunities for leading manufacturers, planning to expand in these regional markets and attain higher market shares.
An expanding undiagnosed insomnia patient pool suggests that there is a clinically significant level of insomnia among global population, which prompts at the critical need for improved recognition, diagnosis, and treatment.
According to the research, billions are being spent on sound sleep. The booming multi-billion dollar sleep-health economy is an answer to the increasing number of insomnia cases, eventually opening an array of beneficial market opportunities for both private and consumer-oriented pharmaceutical companies, manufacturers, retailers, and health service providers.
- Companies Covered in This Report -
Sunovion Pharmaceuticals, Inc.
Natrol, LLC
GlaxoSmithKline Plc.
Sanofi SA
Pfizer Inc.
Boehringer Ingelheim International GmbH
Mallinckrodt
PERNIX Therapeutics
Takeda Pharmaceutical Company Limited
Merck & Co. Inc.
Others.