Flourishing Meat Exports to Bolster Glycine Consumption
Glycine is widely used as a nutritional supplement in animal feed as it regulates all metabolic processes. Increasing meat consumption at a global level and high production of livestock such as swine, broiler, and cattle will account for an upsurge in demand for animal feed additives.
Growing meat export across the globe clearly indicates a steep rise in consumption of glycine over the following years. North America holds around a third of the global glycine market value, which is attributed to meat that accounts for nearly 60% of the overall protein consumption in the U.S.
Lucrative Opportunity Resides in Pet Food Industry
In addition to increasing ownership of pet cats and dogs, a growing trend of pet humanization will positively impact the market growth during the forecast period. Pet care spending in the U.S. reached US$ 72.56 Bn in 2018, up from US$ 69.51 Bn in 2017. This indicates that the demand for pet food is also thriving rapidly, majorly driven by increasing spending on pet care and food products by owners.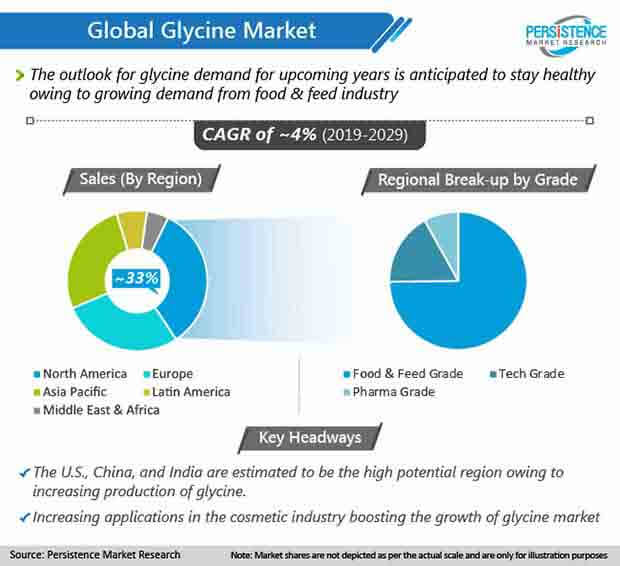 Agriculture Industry Turning into Attractive Revenue Pocket
Glyphosate is a synthetic amino acid, which is widely used in biocides. Glycine is used as feedstock for production of glyphosate, thus, any changes in demand for glyphosate has a strong and direct effect on the glycine market. Demand for glyphosate is estimated to remain high during the assessment period, owing to growing adoption of herbicide-tolerant (HT) and genetically-modified (GM) crops.
Increasing demand for less tillage as well as no-tillage farming systems is expected to positively influence demand for glyphosate. Glyphosate increases per-hectare yield, in turn, positively impacting farming profitability. Increased emphasis on improving crop yield, growing demand for crop protection solutions in agriculture, and preference towards sophisticated farming practices are other factors impacting demand for glyphosate and consequently, the glycine market.
Growing Pharmaceutical Industry Warrants Strong Demand Growth
In the pharmaceuticals industry, glycine is used as a component of amino acid mixtures for oral and parenteral use. It is used as a re-absorbable amino acid for treatment of diarrhea and animal scours. Glycine is a versatile intermediate used in chemical synthesis of pharmacologically-active compounds.
It has antimicrobial preservative properties and has been shown to stabilize vitamin C. Certain pharmaceutical-grade products include glycine to improve gastric absorption of the drug. Other uses include sweetener, emollient, emulsifier, solubilizing agent, stabilizer, and buffer substance in various applications. Therefore, growing pharmaceutical industry is estimated to boost the demand for glycine.
Market Structure Analysis
The global glycine market is estimated to be fairly fragmented, owing to the presence of small-scale and international manufacturers across the regional level. Leading market players account for around half of the market share in the global glycine market. The market players have been focusing on collaboration activities, and on expanding their global footprint to seize major share of the market.
For instance, in 2017, Ajinomoto Health & Nutrition North America, Inc. acquired Cambrooke Therapeutics, Inc., a U.S.-based medical foods company that manufactures amino acid products.
Analyst's Opinion
The global glycine market is expected to reach US$ 1 Bn by the end of 2029, progressing at a significant CAGR of 4% during 2019 - 2029. Asia Pacific and North America account for prominent value shares in the global market. The food- & feed-grade segment is projected to dominate the global glycine market throughout the forecast period.
Key Segments of Glycine Market
PMR's study on the glycine market is divided into four significant segments- grade, application, and region. This report offers comprehensive data and information about important market dynamics and growth parameters related to these categories.
Grade

Tech Grade
Food & Feed Grade
Pharma Grade

Application

Chemical
Food & Feed
Pharmaceutical
Others

Region

North America
Latin America
Europe
Asia Pacific
Middle East & Africa (MEA)
Key Questions Answered in PMR's Glycine Market Report
Which region is anticipated to hold a prominent market share over the forecast period?
What will be the key driving factors propelling demand for glycine during the forecast period?
How current trends will impact the glycine market?
Who are significant market participants in the glycine market?
What are the crucial strategies of prominent players in the glycine market to upscale their positions in this landscape?
- Companies Covered in This Report -
Evonik Industries AG
Yuki Gosei Kogyo Co., Ltd.
BASF SE
Sumitomo Chemical Co., Ltd.
Cargill Incorporated
Hubei Xingfa Chemicals Group Co. Ltd.
Showa Denko KK
Ajinomoto Health & Nutrition North America, Inc.
CPS Performance Materials
Shijiazhuang Donghua Jinlong Chemical Co., Ltd.
Chattem Chemicals, Inc.
AMINO GmbH